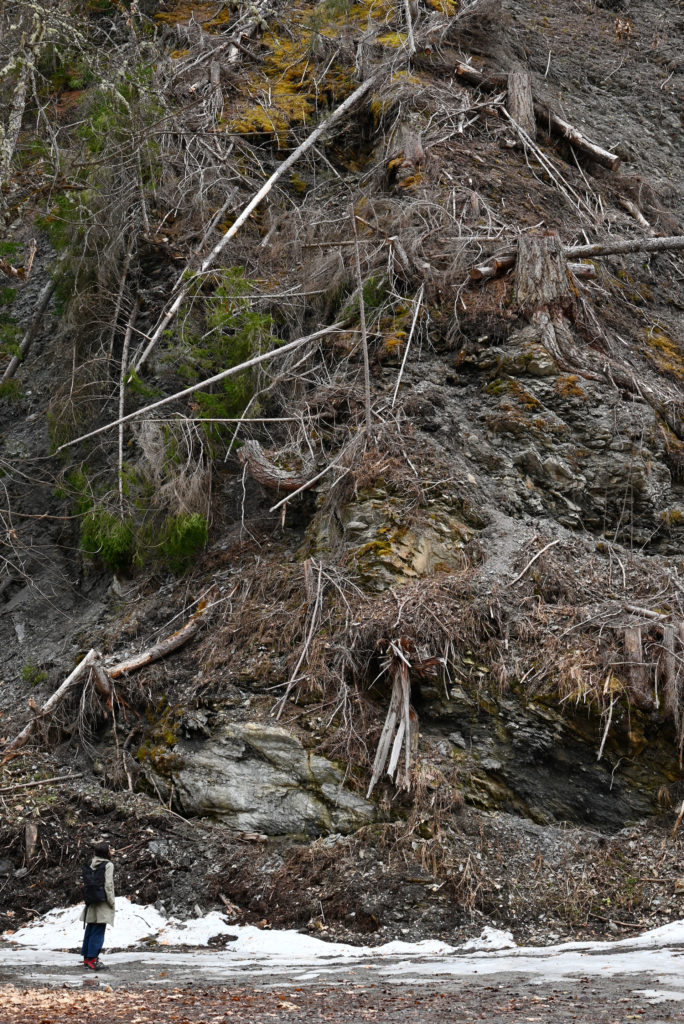 Toutes les photos: Pernette Emery ou Séverine Emery-Jaquier
*en attendant que la neige fonde
3 month artist in residence
Fundaziun Nairs, Scuol, Lower-Engadin, Switzerland
02 March > 31 Mai 2022
RESIDENCE DIARY
Climate change, loss of biodiversity, wars
On March 2, 2022, at the end of the restrictions imposed by the pandemic, while our societies return to their devastating habits on our environment, 6 days after the announcement of a « new » war, I leave for the Lower Engadine. A nearby place; empty-handed…
Exceptional natural site, biosphere
Strolling
Walk, resist, create
Collapses, closed paths
Cartography
What forms for our lives? What forms for art?
Movement
Spettar cha la naiv algua waiting for the snow to melt
March-April
Snow, night
Suspended time, silence
Observing, recording
Images, detachable words, sounds
Encounters
a tone of Italy
a memory of England
a dream of adventure
background sound, the Inn
Icy paths
Territory, borders, forbidden
The bear
Rhythm, distance, scale
Feeling of danger
Impermanence
Dead time, the whole valley rests between two tourist seasons
April-May
Investing the space of the Lab
Sharing, communicating, giving form
Piz Lischana, tectonic, reality-fiction, pink
Atlas, space, time & imagination
End of May, long holiday weekend, Playground
Sitting in the space of the Lab, door open, I observe and listen to the ballet of the Berlines, drop-off of a few privileged people, for a quick stay in an accomodated paradise. A taste of a Grand Hotel in Budapest.
Outside the window, little leaves and twigs dance in circles on the pink sand…
Monday, pack up, quit
Tuesday, leave
(Translated from French)
3 mois de résidence artistique
Fundaziun Nairs, Scuol, Basse-Engadine, Suisse
du 2 mars au 31 mai 2022
JOURNAL D'UNE RESIDENCE
Changement climatique, effondrement de la biodiversité, guerres
Le 2 mars 2022, au sortir des mesures contraignantes liées à la pandémie, alors que nos sociétés reprennent leurs habitudes dévastatrices pour notre environnement, 6 jours après l'annonce d'une « nouvelle » guerre, je pars pour la Basse-Engadine. Un ailleurs proche; les mains vides…
Site naturel d'exception, biosphère
Dérives, flâneries
Marcher, résister, créer
Effondrements, chemins condamnés
Cartographie
Quelles formes pour nos vies?
Quelles formes pour l'art?
Déplacement
Spettar cha la naiv algua *
mars-avril
Neige, nuit
Temps suspendu, silence
Observer, enregistrer
Images, mots détachables, sons
Rencontres
une tonalité d'Italie
un souvenir d'Angleterre
un rêve d'aventure
fond sonore, l'Inn
Sentiers glacés
Territoire, frontières, interdit
L'ours
Rythme, distance, échelle
Sensation de danger
Impermanence
Temps mort, toute la vallée se repose entre deux saisons touristiques
avril-mai
Investir l'espace du Lab
Partager, communiquer, donner forme
Piz Lischana, tectonique, réalité-fiction, rose
Atlas, espace, temps & imagination
Fin mai, week-end de l'Ascension, place de jeu
Assise dans l'espace du Lab, porte ouverte, j'observe et écoute le ballet des Berlines, déposes de quelques privilégié-es, pour un rapide séjour dans un paradis aménagé. Un goût de Grand Hôtel à Budapest
Derrière la vitre, les petites feuilles et brindilles dansent en cercles sur le sable rose…
Lundi, ranger, quitter
Mardi, partir
WALKED PATHS
Flâneries, dérives
Une série de dessins des chemins parcourus
a serie of drawings of the paths walked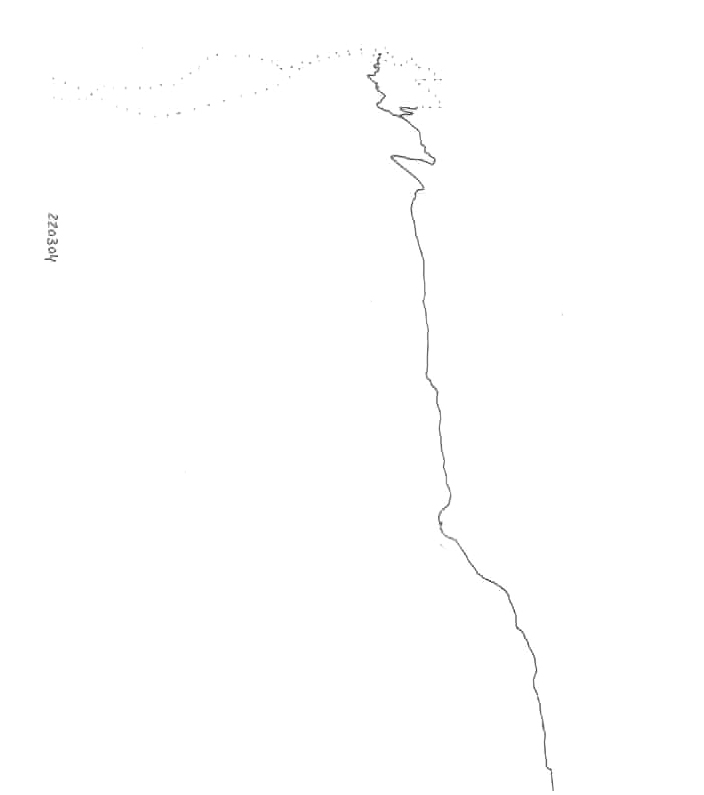 EXPOSITION AU NAIRS LAB
Exhibition at the Nairs-Lab in Scuol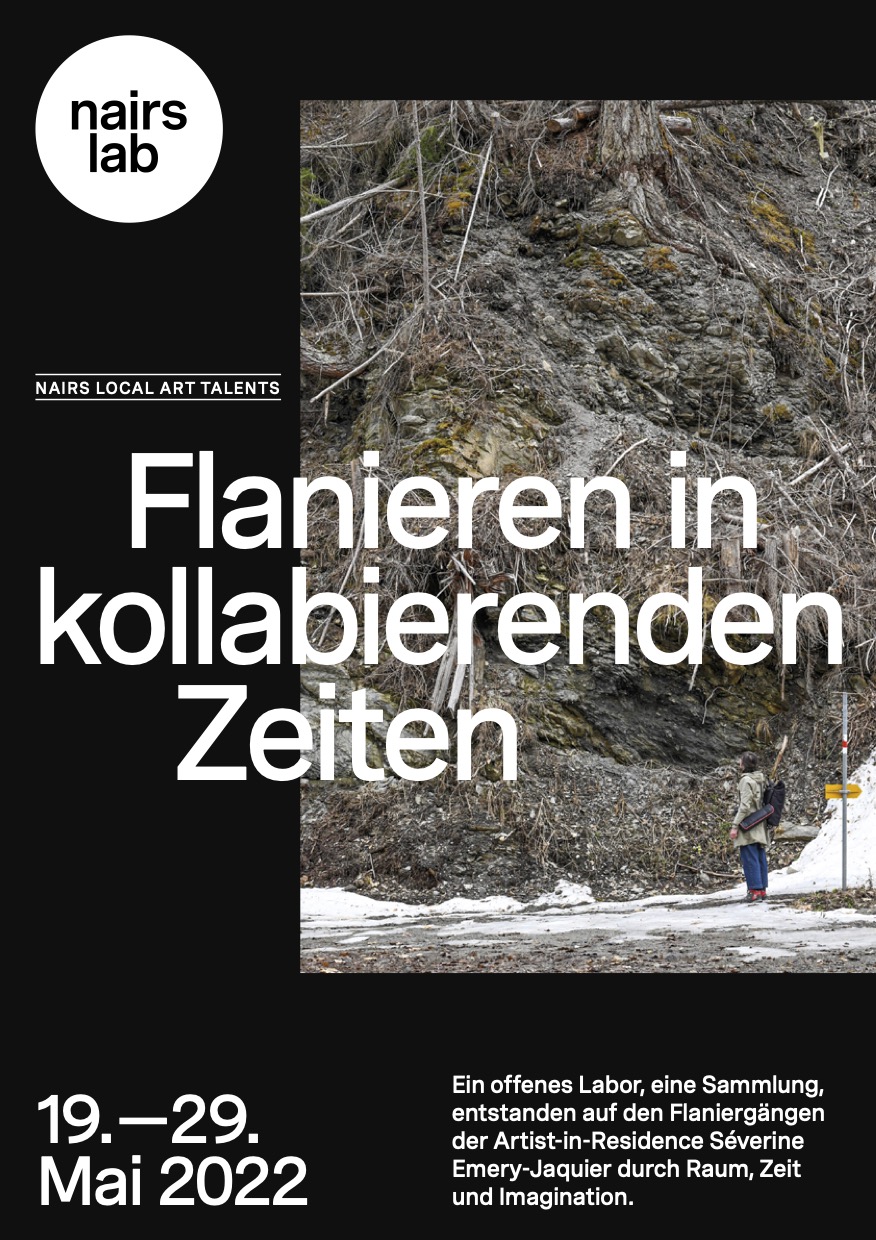 Un laboratoire ouvert, une collection issue des déambulations de l'artiste en résidence Séverine Emery-Jaquier dans l'espace, le temps et l'imagination.
Ein offenes Labor, eine Sammlung, entstanden auf den Flaniergängen der Artist-in-Residence Séverine Emery-Jaquier durch Raum, Zeit und Imagination.
An open laboratory, a collection resulting from the strollings of the artist in residence Séverine Emery-Jaquier in space, time and imagination.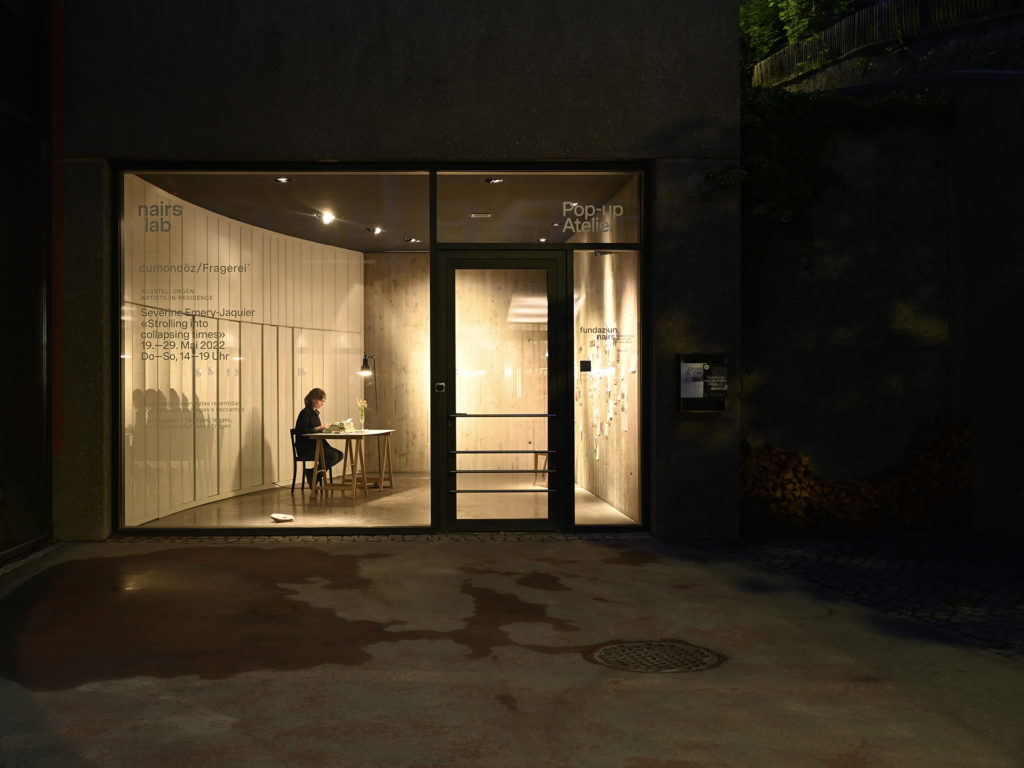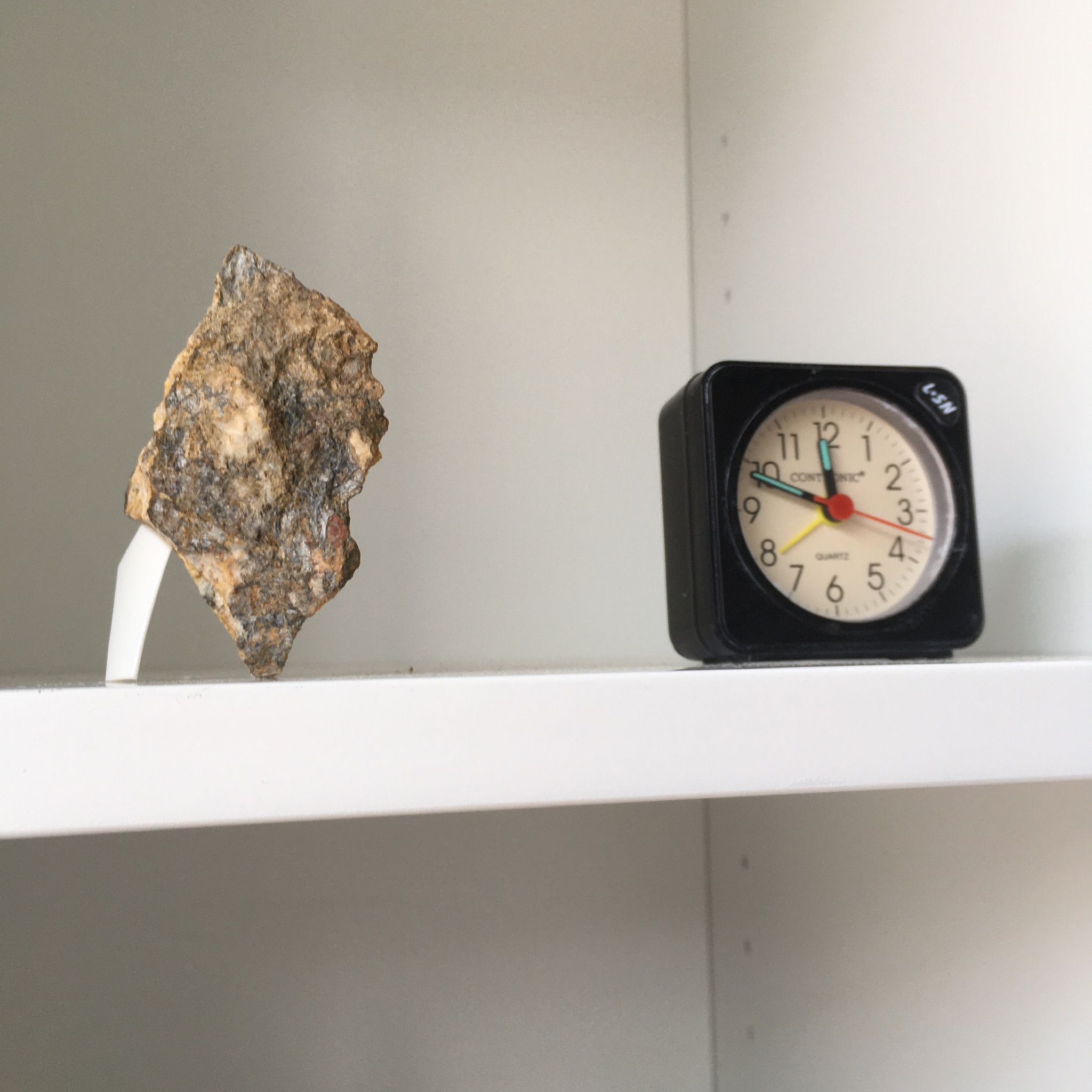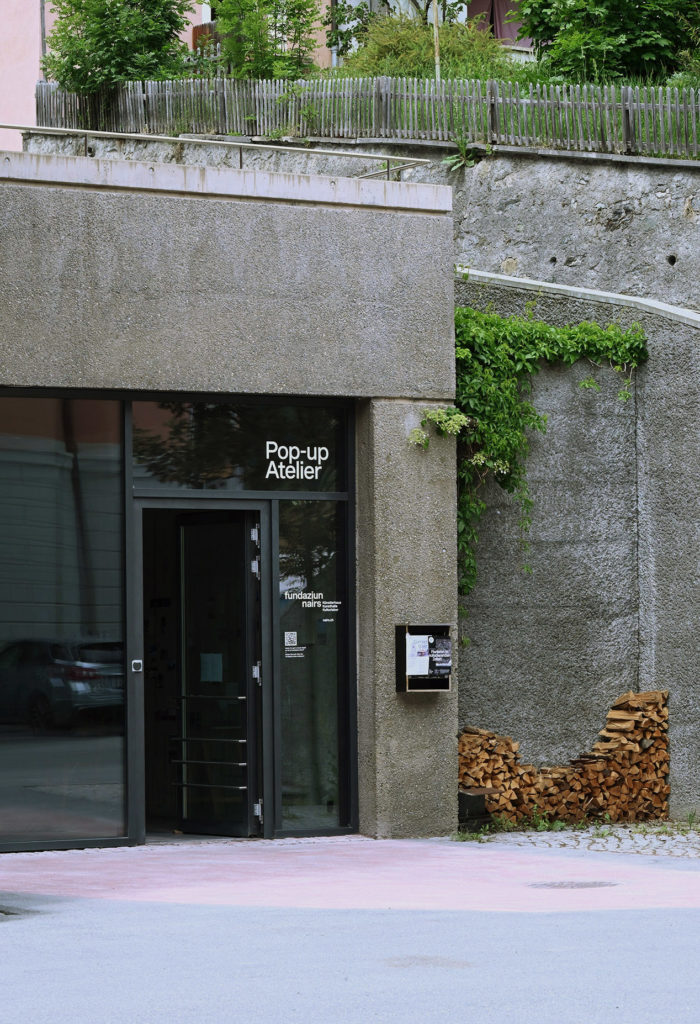 PIZ LISCHANA
Installation in-situ, roche rose du Piz Lischana (visible en face du Lab) charriée par la rivière jusque dans la vallée de la Basse-Engadine, à Pradella.
A travers le temps et l'espace.
Réalité et fiction.
In-situ-Installation, rosafarbenes Gestein vom Piz Lischana (sichtbar gegenüber dem Lab), das vom Fluss in das Unterengadiner Tal bei Pradella gespült wurde.
Durch Zeit und Raum.
Realität und Fiktion.
In-situ installation, pink rock from Piz Lischana (visible in front of the Lab) carried by the river to the Lower Engadine Valley in Pradella.
Through time and space.
Reality and fiction.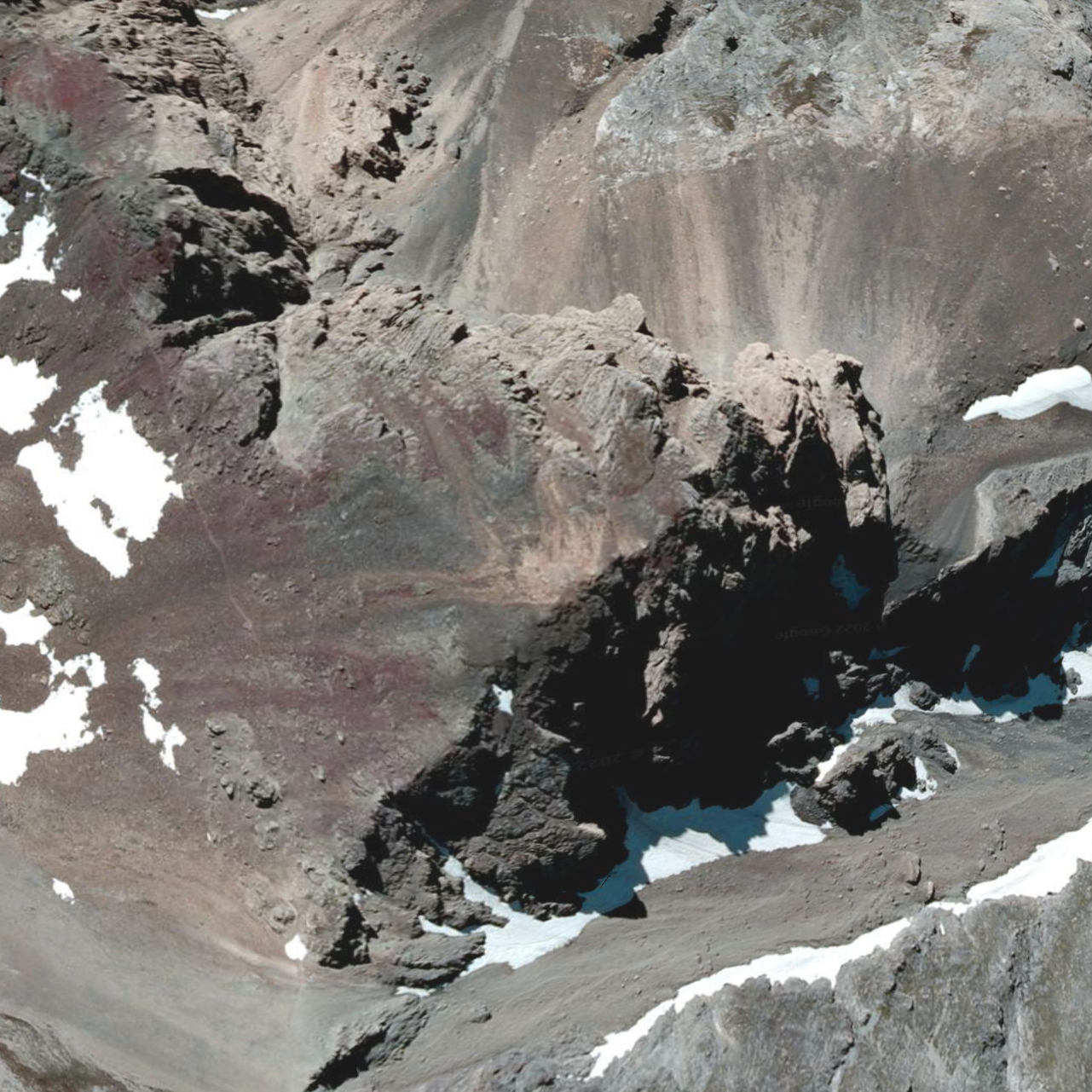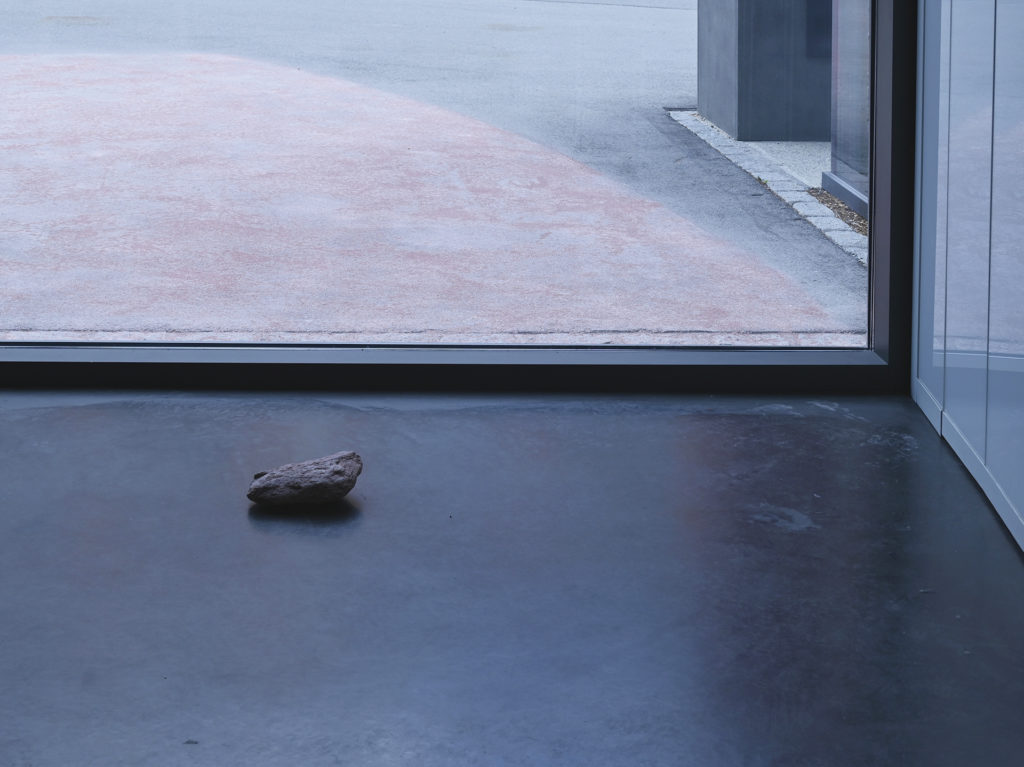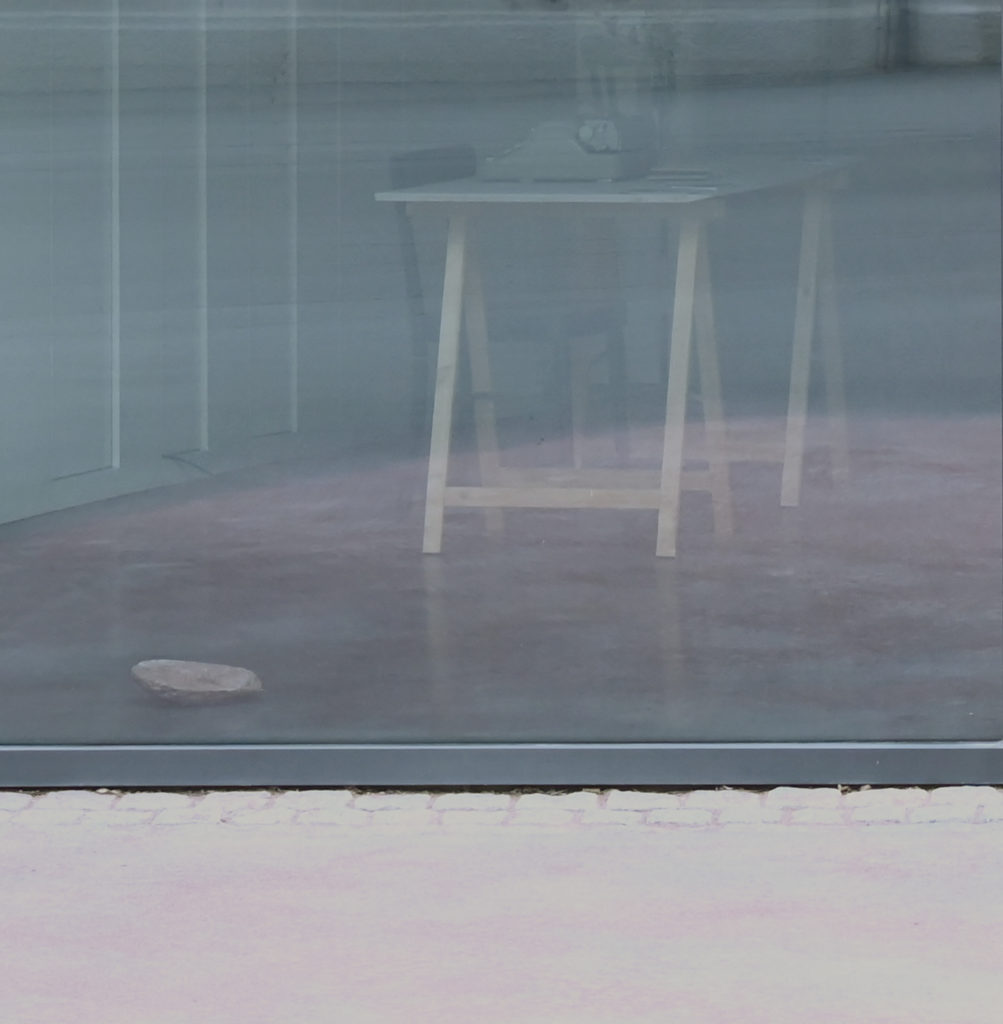 ATLAS
Une collection d'images et d'objets rassemblés lors des déambulations de l'artiste, tel un atlas poétique et éphémère qui révèle notre vulnérabilité dans un environnement à l'équilibre fragile. Une tentative d'appréhender le territoire à différentes échelles, par la production d'associations et de situations. Des liens incertains et singuliers, stratifications, raccourcis et détours, créent une certaine dispersion propice à la dérive de l'imagination… Issue de secours face à l'effondrement?
Eine Sammlung von Bildern und Objekten, die die Künstlerin während der Flaniergänge in der Umgebung zusammengetragen hat. Eine Art poetischer und vergänglicher Atlas, der unsere Verletzlichkeit in einer Umwelt mit fragilem Gleichgewicht offenbart. Ein Versuch das Territorium durch die Herstellung von Assoziationen und Situationen in verschiedenen Massstäben zu begreifen. Ungewisse und einzigartige Verbindungen, Schichtungen, Abkürzungen und Umwege schaffen eine gewisse Zerstreuung, die die Vorstellungskraft beflügelt; ein Ausweg aus dem Zusammenbruch?
(aus dem Französischen übersetzt)
A collection of images and objects gathered during the artist's stroll, like a poetic and ephemeral atlas that reveals our vulnerability in an environment with a fragile balance. An attempt to apprehend the territory at different scales, through the production of associations and situations. Uncertain and singular links, stratifications, shortcuts and detours, create a certain dispersion favourable to the drifting of the imagination… A way out of the collapse?
(translated from French)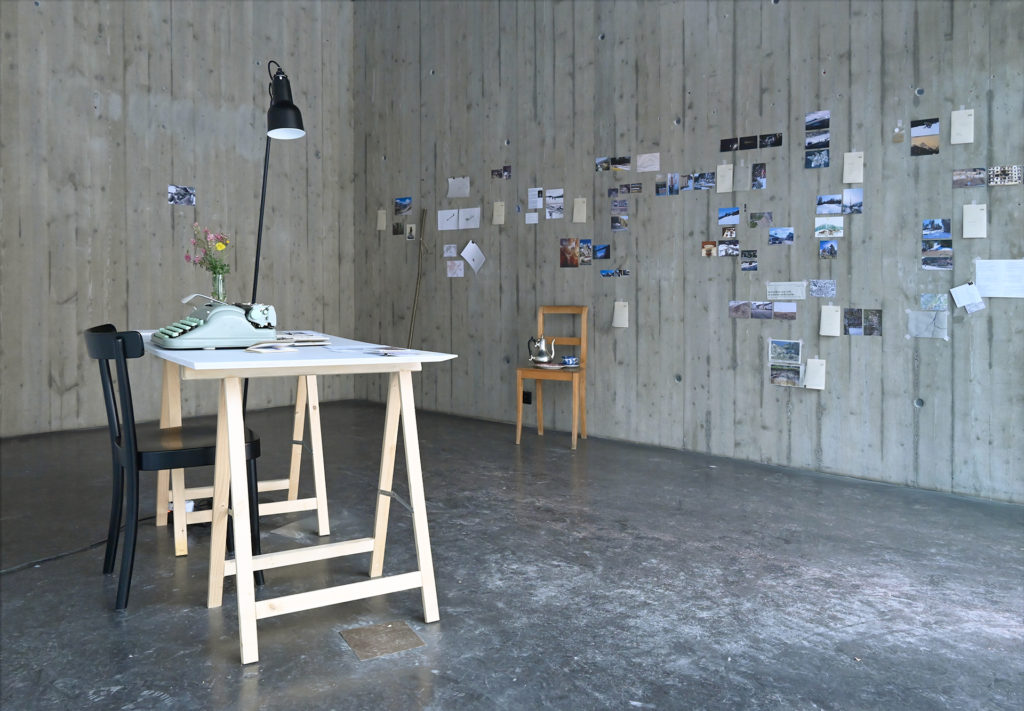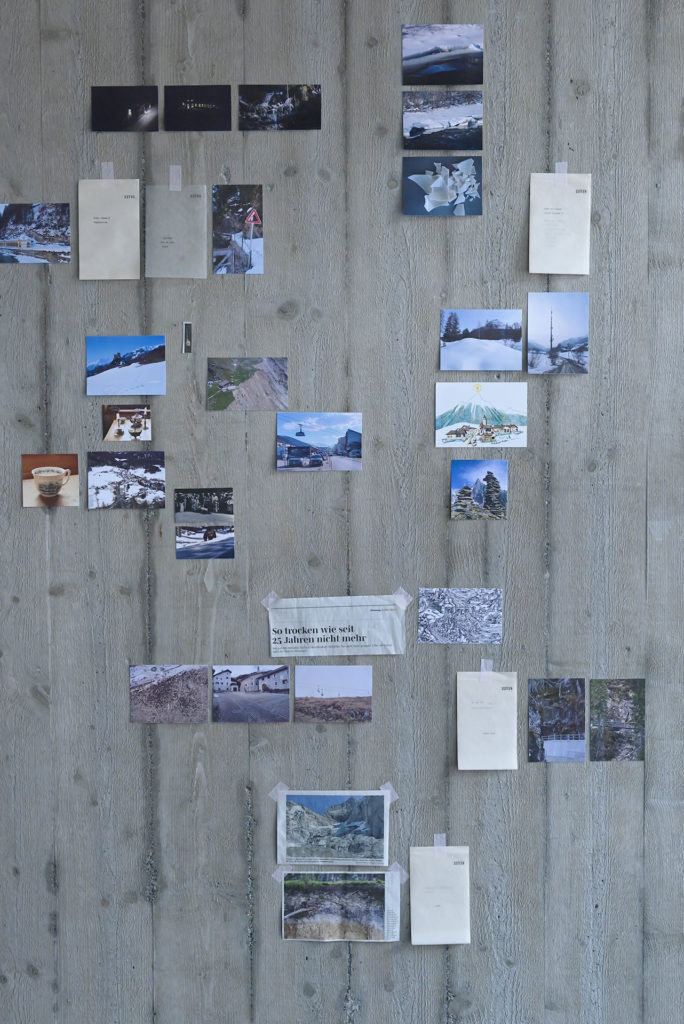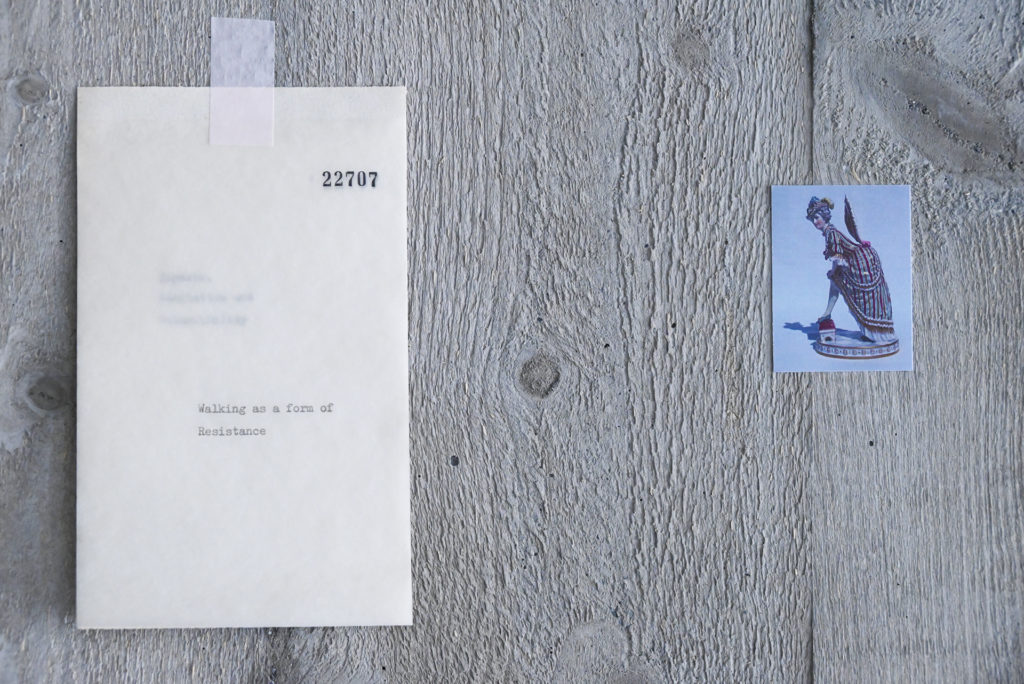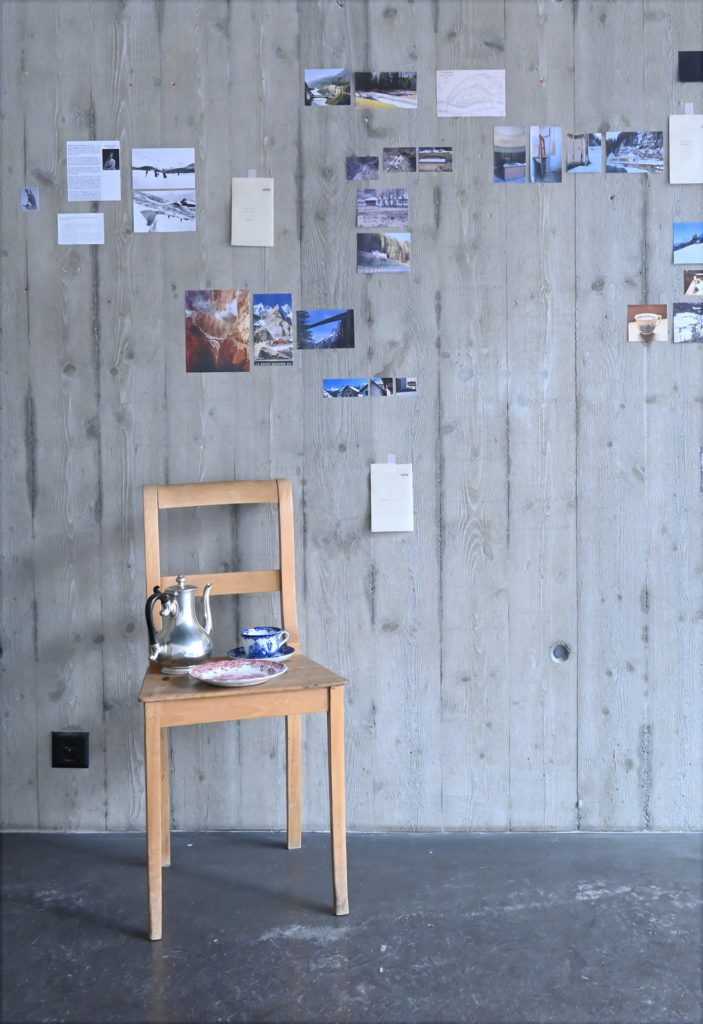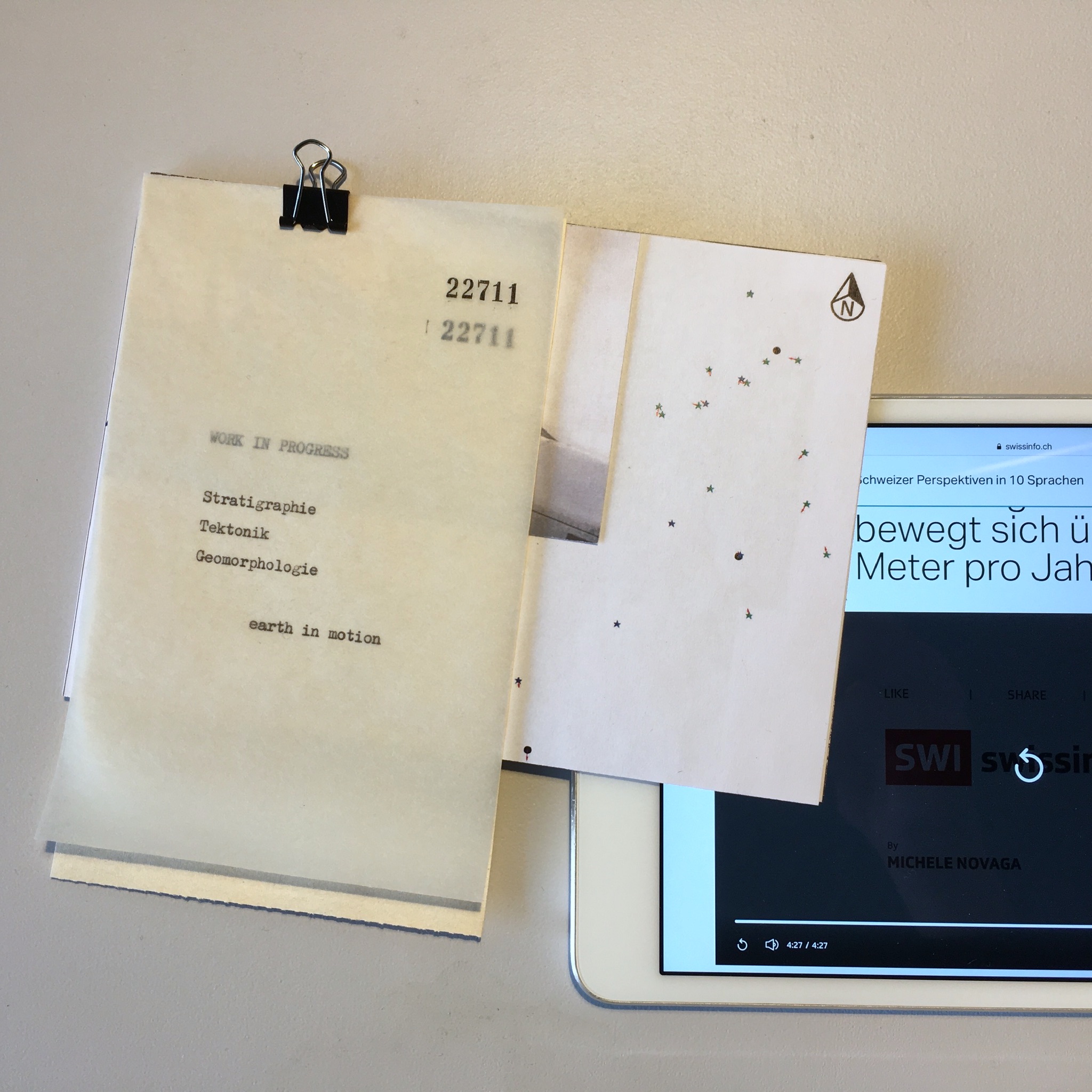 Sitting in the Lab, writting stories with images…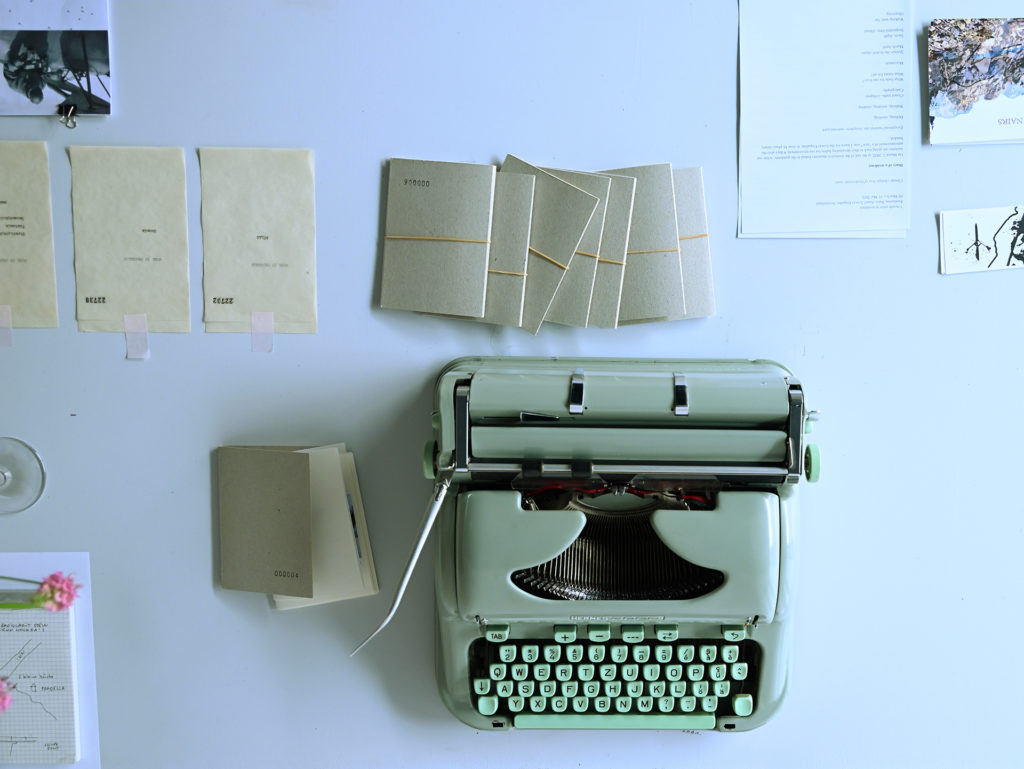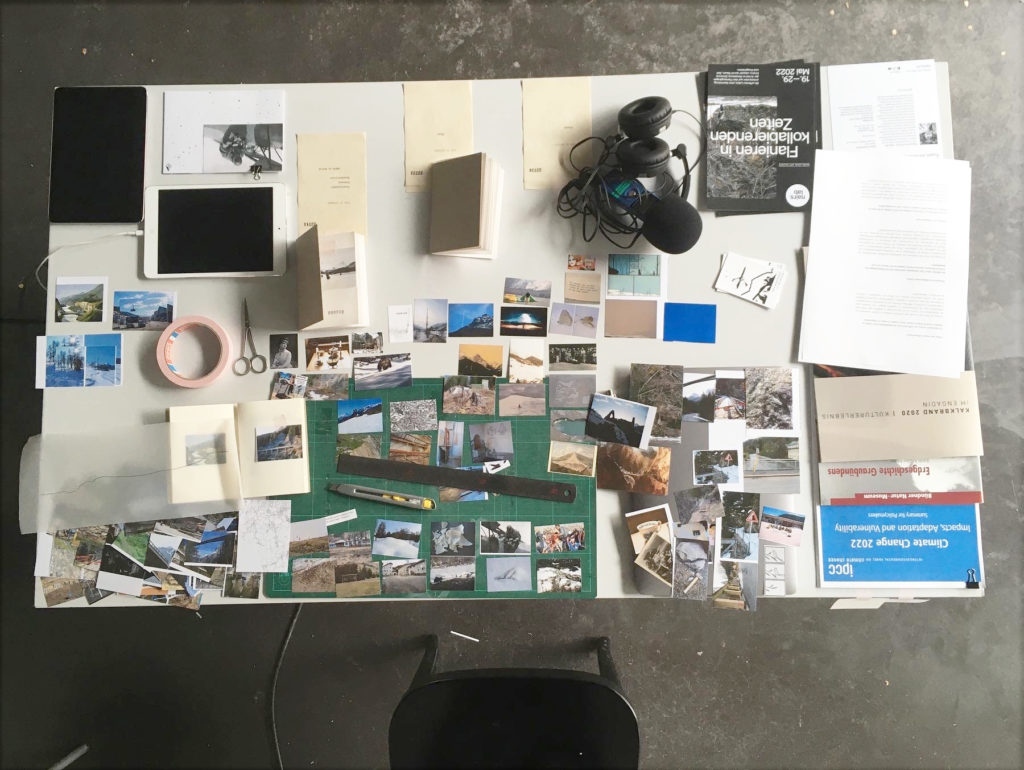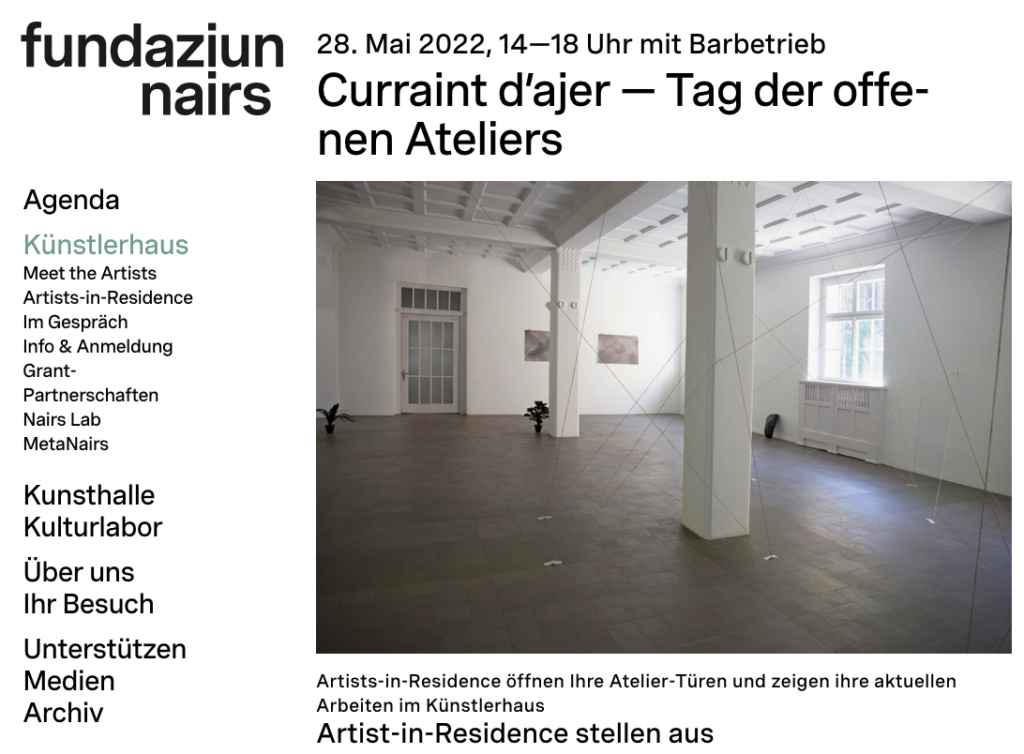 FUNDAZIUN NAIRS, IN-SITU 2022
Installation in-situ à la Fondation Nairs à l'occasion des journées portes ouvertes Curraint d'Ajer le 28 mai 2022 (>11 juin 2022)
(ficelle de lin, scotch de carrossier, motte de terre, 3 images)
éphémères
notre présence au monde, nos artefakts
une fois disparu-es, la nature reprend sa place…
Ephemere
unsere Präsenz auf der Welt, unsere Artefakte
wenn verschwunden, nimmt die Natur ihren Platz wieder ein
(aus dem Französischen übersetzt)
ephemera
our presence in the world, our artefacts
once gone, nature takes its place…
(translated from French)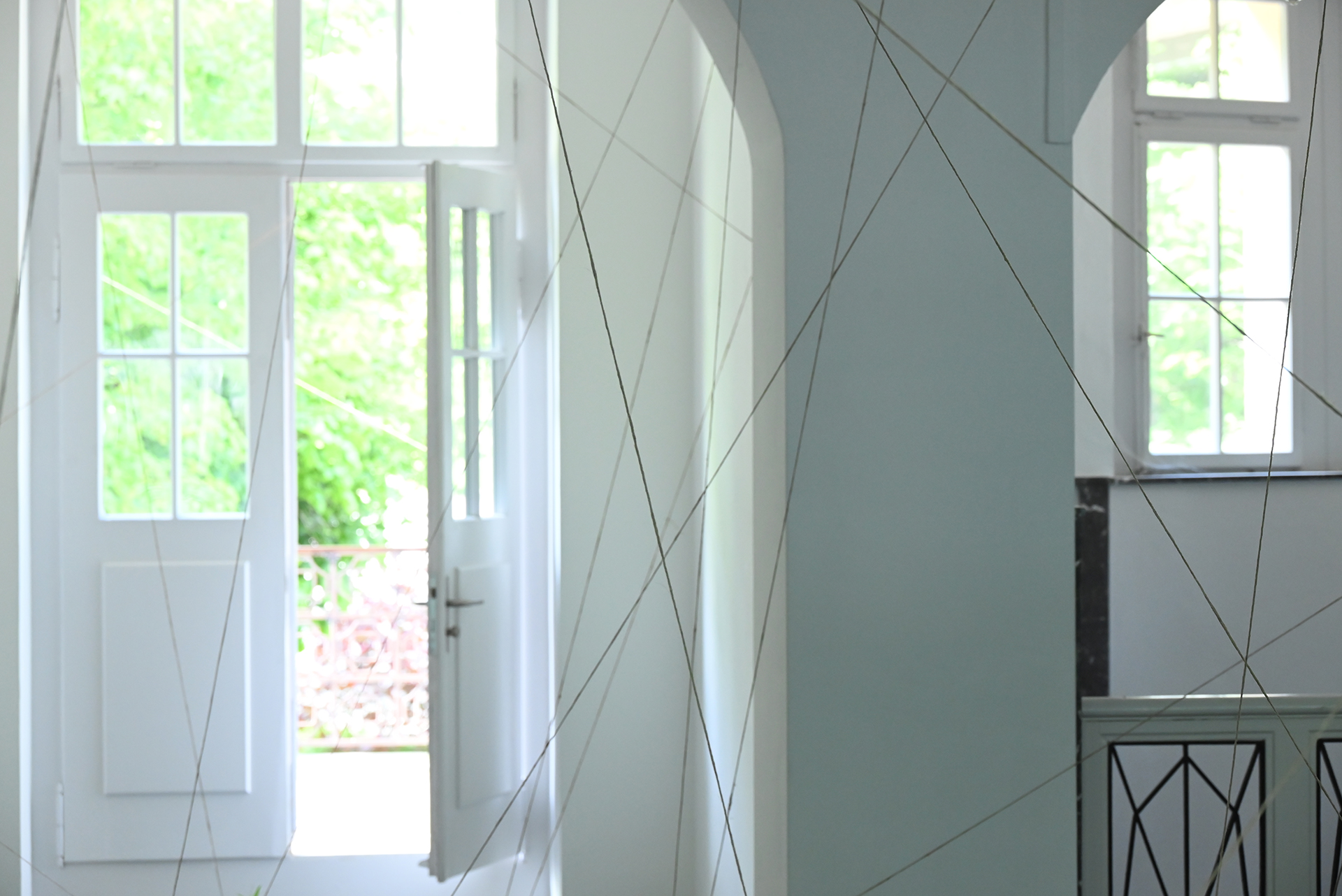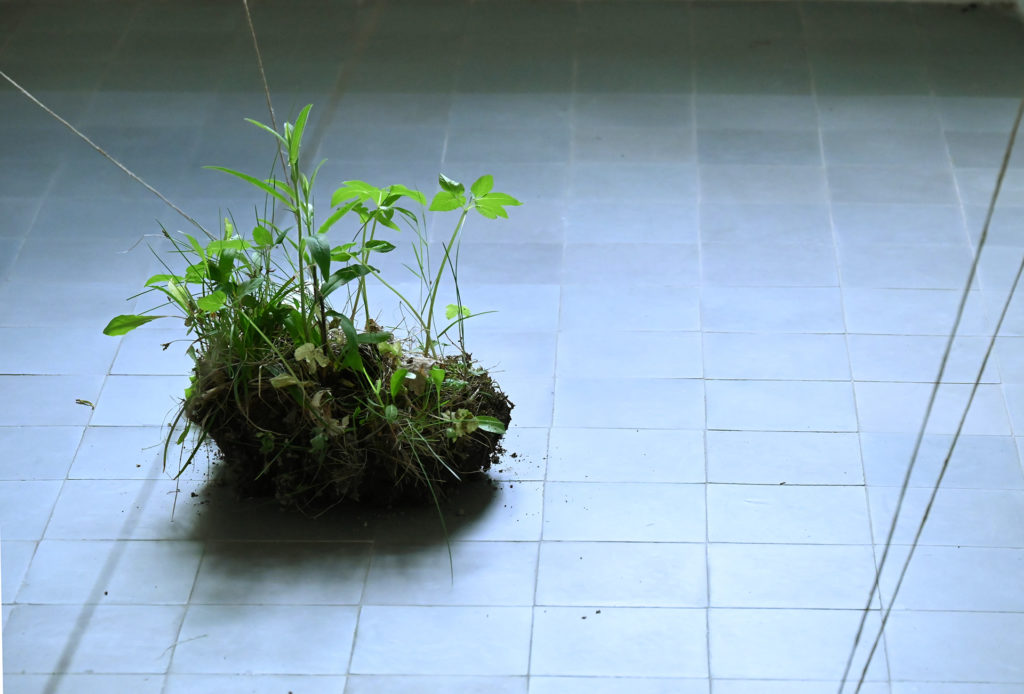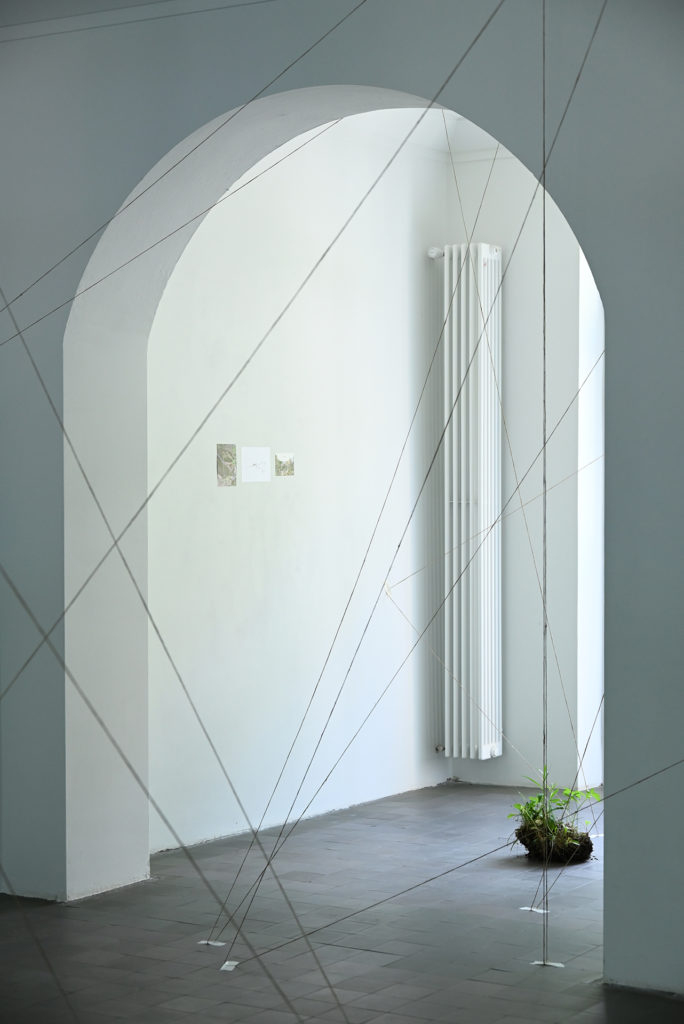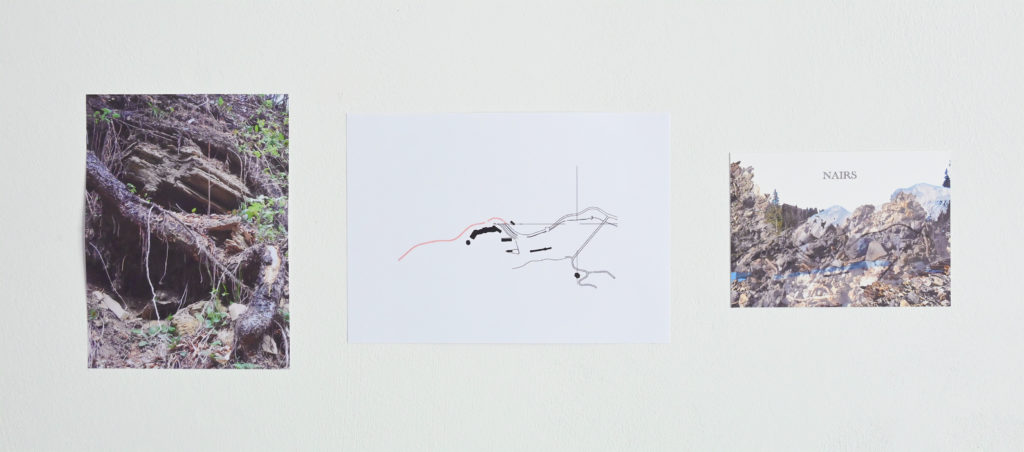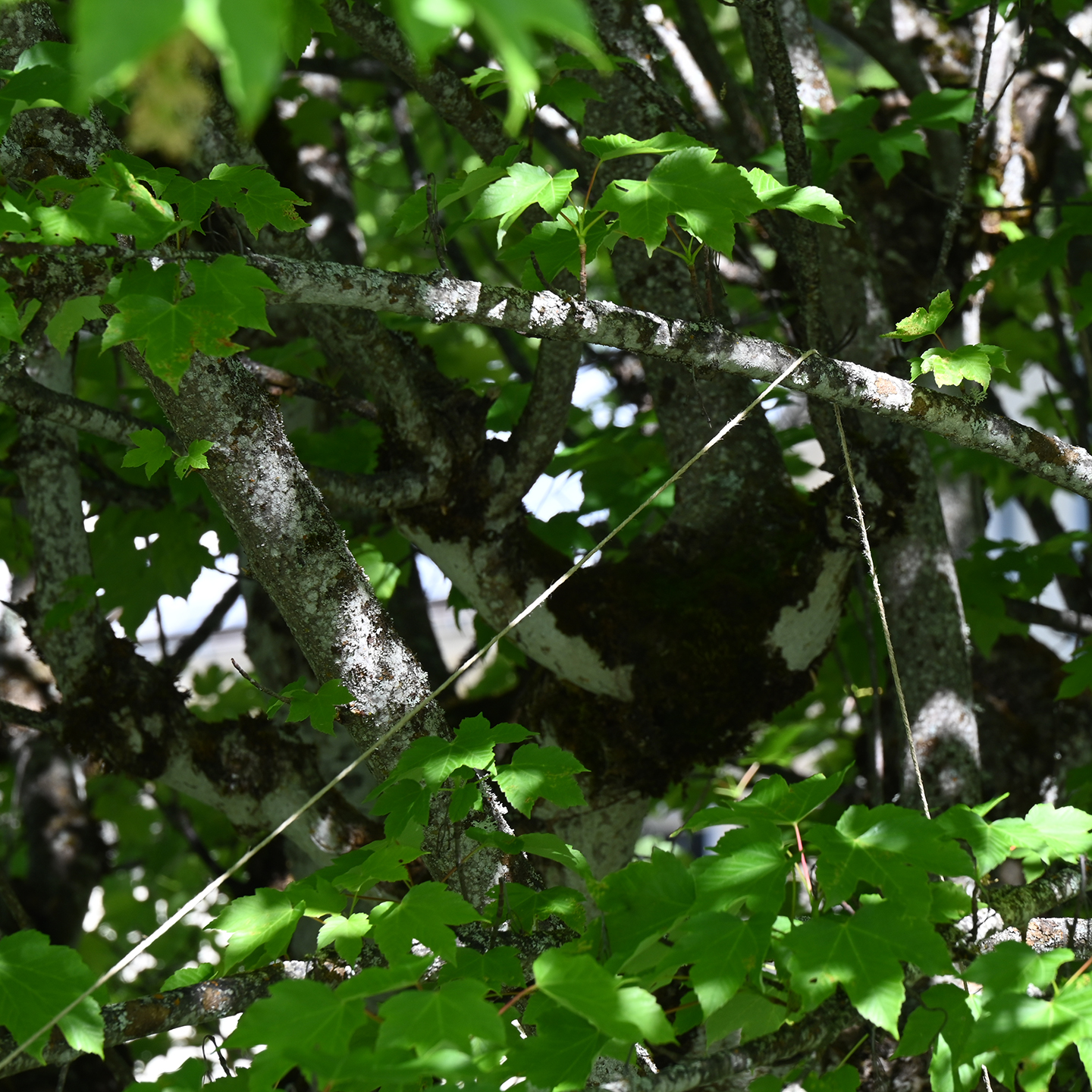 GREATINGS FROM NAIRS
before leaving…
Série de cartes postales